Posted September 14, 2022
By Sean Ring
Where Europe Meets Asia
Happy Hump Day!
It technically is Hump Day, as the clock struck midnight and Iowa Michael demanded his bed.
Oh, what a day!
Travel is invigorating, especially when traveling to one of your favorite places!
"If the world were a single state, Istanbul would be its capital," Napoleon once said.
I agree entirely with Old Boney.
There's simply no other place in the world that combines Sydney's harbour (yes, with a superfluous "u"), San Francisco's hills, and London's skyline (though the minarets replace the steeples).
Besides all that, Istanbul boasts fantastic cuisine, a nearly unrivaled history, and a friendly face that belies its toughness.
It's a city that never fails to surprise you yet makes you feel completely at home.
Yes, even Westerners - perhaps, especially Westerners - will feel like this city is a home away from home.
But that distance isn't measured in miles.  It's measured in centuries.
In this Rude, I'll walk you through my day in the actual capital of the world.
The New Airport
I didn't mind flying into the old Ataturk airport.
It was comfy enough.  Well, at least the international terminal was.
The domestic terminal was always hit-and-miss, but I didn't mind.
However, I finally landed at the relatively new Istanbul Havalimani airport yesterday, and it's a beauty.
Between you and me, I don't know why every country in the world doesn't order the plans of Singapore Changi - the world's best airport by a country mile - so they can duplicate it.
But they don't.
Instead, Istanbul now owns a version of Hong Kong International Airport on steroids.
It's an enormous, cavernous, and quite a great airport.
Sparkling and shiny, it can't fail to impress.
Still, I'd prefer Changi's top-notch service to IST's intimidating size.
Nevertheless, it did its job well.
Before I left the airport, I needed some lira for the cab and dinner later.
To remind you, the markets have decimated the Turkish lira: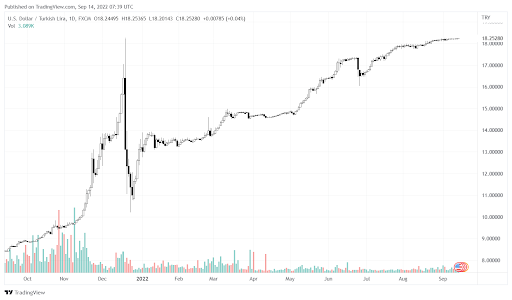 Credit: Trading View
That's the USD going up (while the TRY is going down.)
In plain English, one dollar used to buy only 8 Turkish lire.  Now it buys 18 Turkish lire!
Here's how inflation feels in Turkey.
This is only USD 200 worth of Turkish Lire.
I felt like a rapper about to OD on bottles of Cristal!
No wonder inflation makes people feel rich (while impoverishing them).
The Ride Down to the Old City
I jumped in a cab to get to the Old City.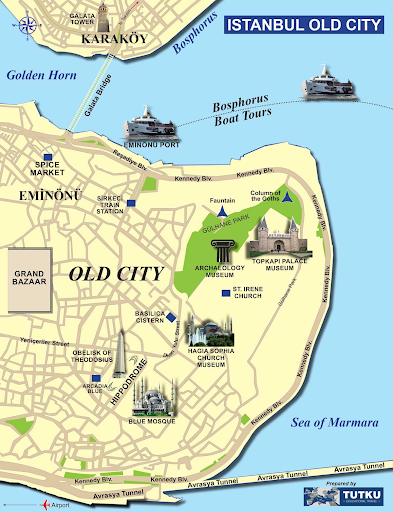 Credit: Tutku Tours
My hotel, the Zeynep Sultan Hotel, Iowa Michael's favorite, is just by the Basilica Cistern.
We always stay there when we meet in Istanbul.
Shockingly, I didn't hit any traffic until about five minutes from the hotel, so I got out and walked the short distance.
And walking through Istanbul's Old City is a treat.
Old City is about as European as you can get with mosque minarets around you.
It's an amazing amalgam of street vendors, rug shops, and world history.
We love the food and drink there as well.
Greetings Mateys!
Big hugs were exchanged between Iowa Michael, Doctor Dutch, and me.
I hadn't seen these guys in years (literally).
We immediately headed out to a local restaurant for a few snacks.
The lamb chops and Turkish salad were delectable, as were the glasses of Efes, the local Turkish beer.
We then proceeded to the local grocery store to pick up some bottles of wine.
Once we secured our stash, we went to our hotel's rooftop terrace, where we have this view of Hagia Sophia:
Credit: Sean Ring
Nothing beats cracking open a bottle of red on a rooftop with your friends with a view of one of the world's great buildings.
We caught up, as much as we could, on the last three years or so.
But then, we decided to take another walk… to a bar.
Well, why not?
Dinner Overlooking the Mosques
After a brief walkabout, we decided to get a drink at the Istanbul Panorama Hotel.
So named for its panoramic view of the city, its dinner terrace faces both Hagia Sophia and the Blue Mosque.
Here's a pic of Hagia Sophia.  It doesn't do the view justice.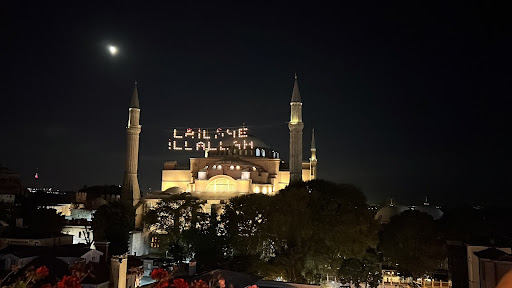 Credit: Sean Ring
In lights, it reads, "There's no God but God."
If you recall, Hagia Sophia was a cathedral, then a mosque, then a museum, and now back to being a mosque.
I'm visiting there today and will take some pictures for you if I can.
While enjoying the view, the Turkish wine, Turkish cheese plate, and fried calamari were all delightful.
I don't think Turkish cuisine gets enough credit.
If you happen to have a Turkish restaurant in your town that you haven't tried out yet, I can't recommend it enough.
Finally, it was time for bed.
And I've got to tell you; my hotel bed is as comfortable as my bed at home.
What a night's sleep!
Wrap Up
I hope you're not disappointed about me writing about Istanbul instead of the asinine inflation number that came out yesterday.
If you are, I promise charts and macro is the order of tomorrow's Rude, and how things got bearish again really quickly.
But today, I just had to share with you my joy.
Istanbul is one of my favorite places on earth, and I'm here with good friends.
I wish you were here with me, too, so we could share the views and a drop of something cheerful.
Next article
A Transitory Column
Posted September 15, 2022
By Sean Ring
The Fed can't get the inflation toothpaste back into the tube.
Great Game or Great Friends? The Russia and Saudi Bromance.
Posted December 06, 2023
By Sean Ring
Why does Saudi make an enormous effort to sidle up to the Russians?
Back to the Caves, Peasants!
Posted December 05, 2023
By Sean Ring
COP28 President Challenges Fossil Fuel Phase-Out Narrative
Gold's Midnight Madness
Posted December 04, 2023
By Sean Ring
Gold glittered and rocketed in Sunday trading, only to come back down to Earth
Gold Closes Above $2,000: November 2023 MACR
Posted December 01, 2023
By Sean Ring
The USD recovery hurt stocks, bonds, and crypto.
Kissinger Dead; Grim Reaper Gets New Assignment
Posted November 30, 2023
By Sean Ring
Klaus Schwab is thieving oxygen from the rest of us.
Rick Rule: Gold For Insurance, Silver For Greed
Posted November 29, 2023
By Sean Ring
My interview with Rick Rule was a "precious" treat.